Reunion of Rickman and Metisse names after 40 years!
04 / 07 / 2022
After lengthy negotiation with Don Rickman, the name "Rickman" has been assigned to Metisse Motorcycles ltd. So Rickman and Metisse have been reunited once more, and now to be known as Rickman Metisse Motorcycles after a separation of more than 40 years!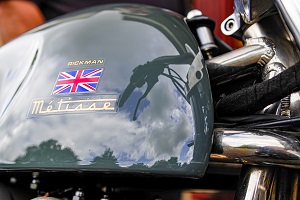 A brief history:
In 1958 the Rickman brothers Don & Derek, created the mk1 & mk2 Metisse motorcycle.
Later on, the Metisse name joined the brand, to form "Rickman Metiise"
In 1982 Pat French acquired ownership of the Metisse name from the Rickman Brothers.
In 1987, the Rickman name passed to Fowlers of Bristol from the Rickman Brothers.
Metisse was purchased by its current owner Geri Lisi in 1999.
In 2000 Rickman Metisse was registered as a trade mark in Australia. by Metisse Motorcycles Ltd
Then in 2016 Metisse Motorcycles Ltd registered "Rickman Metisse USA" was registered in the United States of America.
And now in 2022 following the assignment or rights to the Rickman trade mark from Don Rickman to Metisse Motorcycles Ltd, for the first time since 1982 motorcycles will be manufactured and sold under the Rickman Metisse brand.